Hello again. It has been a while since I've written, but life has been crazy great, and I'm finally getting time to write about all the great books I've read. One I really wanted to share with you is Rook. This book I waited months for. Regency England, spies, romances and the like. I loved it. There were so many surprises and curve balls thrown into this 456 paged thrill ride.
To keep it simple-the main character Sophia and her family are in ruin. She arranges to marry Rene Hasard to save her family. But-she has a terrible secret. She is the Rook- an infamous criminal who rescues good people who have been imprisoned and are going to be beheaded. Twist: Rene is the cousin of the leader of the Government's army who has it out for the Rook. They live in a futuristic time where the world has fallen into a ruined and dangerous place. The Sunken City is where the Government beheads anyone who is wealthy so there can be no uprising. Across the channel is the Commonwealth who lives a little better, but they also live in fear of losing their heads.There is some strange religious thinking on the part of Rene's cousin. Fate plays a big picture in the story.
There is a lot of cat and mouse in this story, but the suspense and intrigue are amazing. It is appropriate romance wise and I appreciate that about writing that comes out in today's society. There are quality books out there! Hooray!!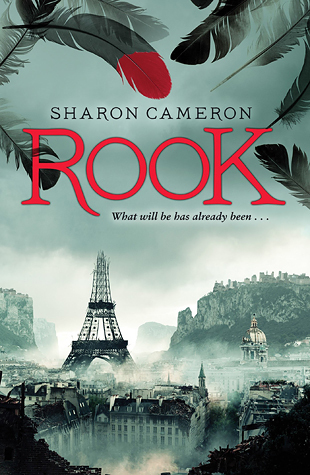 Can we just talk about the cover real quick, too?? It's gorgeous. The greenish gray colors and destroyed Paris really set the tone for the mood of this book. Man. Just read this book because of the cover!!
Be strong in word and deed. Read on nerds!